Mom's New Home in Gardnerville, Nevada
Mom and I drove 500 miles from Carlsbad, CA to Carson City, Nevada. There we met Mom's lifelong friend, Pauline, and stayed at a motel together. All of us found the mountain views glorious. The area is uncrowded. It has a slow-moving, small town feel.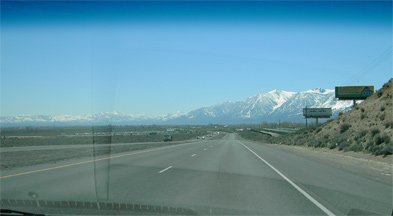 Driving South from Carson City to Gardnerville
During the next two days, we looked at about 8 four bedroom houses for rent. The second day, we found a wonderful rather new home in Gardnerville that will suit them perfectly.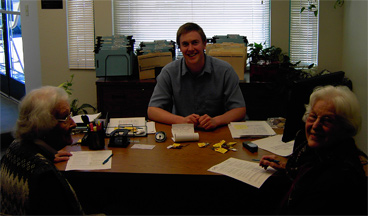 Mom, Dave (the agent) and Pauline
signing the papers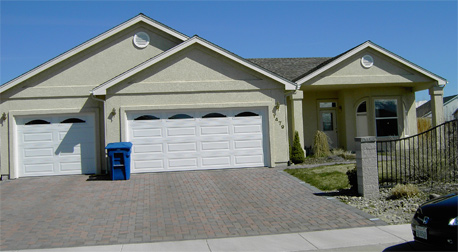 1479 Grendon, Gardnerville, NV 89410
The new house has three large bedrooms plus a bonus room. As can be seen here, there is a double garage (for storage) and a single garage (for Pauline's car). From the bay windows seen above on the right side of the front door, there is a wonderful view of the Eastern side of the Rocky mountains. The house is on the corner, so the views are unobstructed.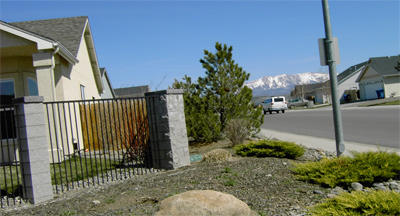 The side of the house with more snowy mountains. There is a wooden fence around the large backyard, so the cats (Rusty and Muffin) will be able to go out into their own yard.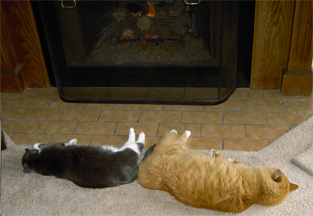 There is a fireplace so Rusty and Muffin will be able to enjoy it like they do in this picture from their current home.
The rosy-fingered dawn over Topaz Lake, 25 miles from the new house on our way back to California.
Next Page: Getting Moved In (click here)